Professional Impose for complex print jobs
Fiery ® Compose provides an advanced preview and editing environment. Its wide range of sophisticated document composition tools and advanced WYSIWYG user interface improve document verification, speed up composition, and enable less experienced operators to perform complex document functions.
From a single, integrated window, operators manage tabs and specify mixed media, taking advantage of the fully automated digital printing process to produce finished documents with minimal operator intervention.
Integration with the Paper Catalogue's centralized paper warehouse database also makes it intuitive for operators to apply media specifications on a per-page or chapter basis and improves paper management across the entire production environment.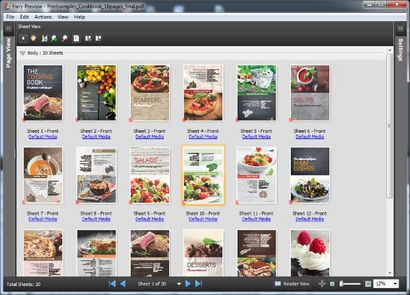 Page View: Simplifies document set-up and navigation in large jobs. Enables users to view entire documents including inserts, tabs, and chapter starts and visually confirms media colour information.
Page-level Ticketing: Processes complex documents with a WYSIWYG job display, decreasing potential for error.
Chapter Definition: Offers quick and easy set-up of page ranges within documents and application of media attributes for page ranges.
Preview Modes: Reviews different page layout output modes and verifies complex document pages quickly, easily and accurately.
Tab Printing: Provides intuitive tab printing functionality, allowing tabs to be inserted, added or removed. Offers WYSIWYG editing of tab text. Manages up to 100 tabs and tab banks up to 15 cuts.
Direct PDF Insertion: Provides simple merging of PDF pages within documents or between documents.
Late Stage PDF Editing: Integrates Enfocus® Pitstop and Adobe® Acrobat® for quick and easy last-minute PDF changes.