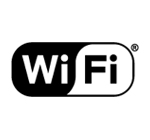 Compatible MFPs create their own Wi-Fi network without the need for a third party access point (router), enabling users to print using the device of their choice.
For a direct pairing between mobile terminal and printing system.
ineo+ 224e/284e/364e/454e/554e
ineo 224e/284e/364e/454e/554e
ineo+ 3850/3850FS/3350
ineo+ 3110/3100P
Necessary options
- UK-208 (A3 model), NC-P03 (A4 model), MK-P06(3850FS/3850/3350), MK-P07 (3110/3100P)
Notes
- It may be necessary to update the device firmware. Contact your DEVELOP service provider for details.
- Up to five mobile terminals can be connected at one time.
Mobile devices supporting WiFi Direct